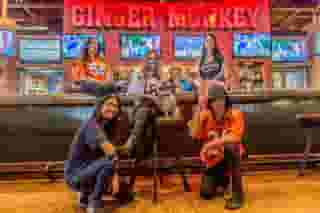 The Story
The name "Ginger Monkey" comes from the time Jackson and Doug were backpacking through Thailand. A red haired monkey followed them throughout their journey, all the while stealing clothes, beers, and even passports. After many attempts to negotiate with this red haired primate they were finally able to befriend him and smuggled him back to Arizona! He now proudly sits atop the bar and watches over his new kingdom!

Okay, the true story…Doug and Jackson have been friends for many years. Doug has tabbed Jackson "Ginger" in response Jackson has called Doug "Monkey" and hence the name "Ginger Monkey."

Please enjoy your visit here at Ginger Monkey and let us know if we can do anything to make your experience a better one!

-Jackson & Doug aka Ginger Monkey!